UNE INHUMATION EN SILO DU NÉOLITHIQUE FINAL À CADARACHE (SAINT-PAUL-LES-DURANCE, BOUCHES-DU-RHÔNE) : SÉPULTURE OU DÉPÔT ?
Test excavations undertaken in the location of canalizations in the Cadarache valley provided the opportunity to excavate a silo-shaped tomb attributed to the Final Neolithic, examples of which are very rare in Provence. An additional pit was found next to the silo. Though the excavated area is very limited, the plain to the northeast has not yet been tested and the extension of this occupation is thus not known. The chronological attribution is based on two radiocarbon dates of bone and charcoal, 4420 BP for the bone and 4490 BP for the charcoal, corresponding to the end of the 4th millennium (between 3120 and 3920 calBC). This is the earliest phase of the Final Neolithic. The associated artefacts (polished axe, hyaline quartz bladelets, pottery fragments) are compatible with the suggested dates. Was this a ritual inhumation or simply an opportunistic burial of a body when the site was abandoned ?
Une campagne d'évaluation, menée sur un tracé de canalisation à travers le vallon de Cadarache, a permis de fouiller deux structures néolithiques : une fosse et une sépulture en silo du Néolithique final, dont les exemples sont très rares en Provence. L'emprise du site fouillé est très limitée mais sachant que la plaine au nord-est n'a pas pu être testée, on ne connaît pas l'extension éventuelle de cette occupation. La datation repose sur deux dates radiocarbone sur os et charbon. Les deux échantillons sont datés de 4420 BP pour l'os et de 4490 BP pour le charbon, ce qui correspond, en dates calibrées, à la fin du IVe millénaire (entre 3120 et 2920 cal BC). Il s'agit du stade le plus ancien du Néolithique final. Le matériel associé (hache polie, lamelle de quartz hyalin, céramiques) est compatible avec les dates proposées. L'on peut s'interroger sur l'existence d'un rituel d'inhumation ou bien d'un simple dépôt opportuniste du corps au moment de l'abandon du site.
Fichier principal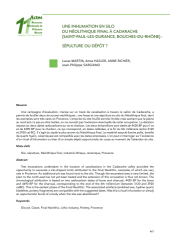 Martin et al. 2016.pdf (1.45 Mo)
Télécharger le fichier
Origin : Explicit agreement for this submission