De la détection à l'expertise : l'apport des opérations de diagnostic dans la plaine de Troyes
The sector of the Troyes plain, a small territory in the Greater East of Paris, whose economic dynamics are representative of those of many small towns in France, is now one of the main areas of activity for preventive archaeology in the north of France. This fact is notably the result of an active, conscious and regular monitoring of areas submitted to land development for more than 25 years of archaeological research. The objective of collective research program « Plaine de Troyes », which draws up a complete assessment of the trajectory of this territory, is to apprehend the spatial dynamics of the human occupations of the first farmers from the Early Neolithic period to the territory polarized by the city of Troyes at the time of the Counts of Champagne. Conceived on a resolutely geographical basis, this program explores the data from a spatial (cartography, statistics) but also from a long-term perspective, for a better understanding of the logic of territorial evolution. The aim is to make a reflexive diagnosis of the long series of operations already carried out and to question the representativeness of their results. Their detailed analysis highlights the complexity of the factors involved, from the detection to the restitution of the main lines of ancient settlement to which any territorial project is attached. It also opens the discussion on the strategies that preventive archaeology must adopt to meet a strictly scientific requirement, without being influenced by commercial or political considerations. The project also aims to build up a statistical data set, characterized by multiple qualitative and quantitative variables, while providing results that can be easily reproduced by other well-monitored sectors. More generally, the objective is to contribute to the writing of a new discourse on the global history of the territories of the French isthmus.
Le secteur de la plaine de Troyes, petit territoire du Grand Est parisien dont la dynamique économique est représentative de celle de nombreuses petites villes de France, fait désormais partie des principales zones d'activité d'archéologie préventive du nord de la France. Cet état de fait est notamment le fruit d'un suivi actif, conscient et régulier, des surfaces soumises à aménagement depuis plus de 25 ans de recherches archéologiques. Le programme collectif de recherche (PCR) « Plaine de Troyes », qui établit un bilan complet sur la trajectoire de ce territoire, a pour objectif d'appréhender la dynamique spatiale des occupations humaines des premiers agriculteurs du Néolithique ancien jusqu'au territoire polarisé par la ville de Troyes au temps des comtes de Champagne. Conçu sur une base résolument géographique, ce programme explore les données sous l'angle spatial (cartographie, statistiques) mais aussi de la longue durée, pour une meilleure compréhension de la logique d'évolution territoriale. Il s'agit de poser un diagnostic réflexif sur la longue série d'opérations déjà menées et d'interroger la représentativité de leurs résultats. Leur analyse détaillée met en lumière la complexité des facteurs entrant en ligne de compte, de la détection jusqu'à la restitution des grandes lignes du peuplement ancien à laquelle s'attache tout projet de territoire. Elle ouvre également la discussion sur les stratégies que l'archéologie préventive doit adopter pour répondre à une exigence strictement scientifique, sans être influencée par des considérations commerciales ou politiques. Le projet vise également à constituer un jeu de données statistiques, caractérisé par de multiples variables qualitatives et quantitatives, tout en fournissant des résultats aisément reproductibles par d'autres secteurs bien suivis. Plus généralement, l'objectif est de concourir à l'écriture d'un nouveau discours sur l'histoire globale des territoires de l'isthme français.
Fichier principal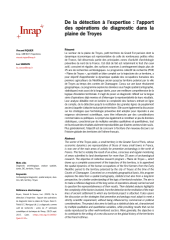 2020_Riquier_Sanson_Diag-plaine-de-Troyes_SST2_Inrap.pdf (17.46 Mo)
Télécharger le fichier
Origin : Publication funded by an institution