Vertébrés : un projet d'atlas ostéologique dématérialisé
"Vertebrates" application is the result of a collaboration between the CNRS laboratory Archimède UMR 7044, Archéologie Alsace and Laetoli Production. It is developed, among others, within the framework of an Idex 2018 project of the University of Strasbourg. It is an interactive osteology atlas allowing to manipulate, compare and measure real specimens digitised in 3D. "Vertebrates" is aimed more particularly at researchers and students but also at a wider public (teachers, students, museums, amateurs…). The application is accessible online, free of charge, by simply registering. It currently includes more than 2,000 bones digitised bones belonging to 13 specimens. Its use is fluid and intuitive and doesn't require any particular computer knowledge.
L'application Vertébrés est le fruit d'une collaboration entre le laboratoire CNRS Archimède UMR 7044, Archéologie Alsace et Laetoli Production. Elle est développée, entre autres, dans le cadre d'un projet Idex 2018 de l'Université de Strasbourg. Il s'agit d'un atlas d'ostéologie interactif permettant de manipuler, comparer et mesurer de véritables spécimens numérisés en 3D. Vertébrés s'adresse plus particulièrement à un public de chercheurs et d'étudiants mais également à un public plus large (enseignants, élèves, musées, amateurs…). L'application est accessible en ligne, gratuitement, sur simple inscription. Elle comprend aujourd'hui plus de 2 000 ossements numérisés appartenant à 13 spécimens. Son usage est fluide et intuitif et ne nécessite pas de connaissances informatiques particulières.
Fichier principal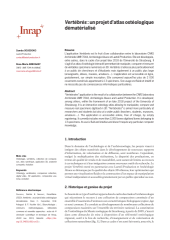 2020_Soussoko_Arbogast_Vertebres_SST4_Inrap.pdf (666.91 Ko)
Télécharger le fichier
Origin : Publication funded by an institution