Archéobios : Archives biologiques et biomatériaux en contexte archéologique
Archéobios thematic school (I. Théry-Parisot and L. Gourichon, CEPAM-UMR 7264) was conceived as a link between archaeologists and specialists, who are often absent in the field. Biological remains are archaeological archives with a strong informative potential whose traces are sometimes tenuous and fragile. Their study meets the requirements of sampling, removal and conservation specific to each material and to precise problems. Although the actions taken during excavations are a determining factor in their analysis, the logistical contingencies imposed on those in charge of operations, particularly in preventive archaeology, can sometimes be detrimental to the potential of the studies. The emphasis of this school has been placed on raising archaeologists' awareness of the scientific issues raised by the study of biological archives; acquiring technical and theoretical skills in sampling, removal and enhancement of remains; raising specialists' awareness of the difficulties in the field; and creating a network to facilitate future exchanges. The remarks and suggestions made by the participants at the end of the course enabled readjustments to be made for the following session in order to be as close as possible to the expectations of the trainees.
L'école thématique Archéobios (I. Théry-Parisot et L. Gourichon, CEPAM-UMR 7264) a été conçue comme un trait d'union entre les archéologues et les spécialistes, souvent absents sur le terrain. Les restes biologiques sont des archives archéologiques au fort potentiel informatif dont les traces sont parfois ténues et fragiles. Leur étude répond à des exigences d'échantillonnage, de prélèvement, de conservation spécifiques à chaque matériau, et à des problématiques précises. Si les gestes lors des fouilles sont une étape déterminante pour leur analyse, les contingences logistiques imposées aux responsables d'opérations, particulièrement en archéologie préventive, peuvent être parfois préjudiciables au potentiel des études. L'accent de cette école a été mis sur la sensibilisation des archéologues aux enjeux scientifiques portés par les études des archives biologiques ; l'acquisition des compétences techniques et théoriques sur l'échantillonnage, le prélèvement et la valorisation des vestiges ; la sensibilisation des spécialistes aux difficultés du terrain ; la création d'un réseau facilitant les échanges futurs. Les remarques et les suggestions des participants en fin de stage ont permis des réajustements pour le déroulé de la session suivante afin d'être au plus près des attentes des stagiaires.
Fichier principal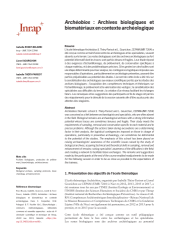 2020_Rodet-Belarbi_et_coll_article_Archeobios_SST4_Inrap.pdf (195.92 Ko)
Télécharger le fichier
Origin : Publication funded by an institution