Le stage Archéologie environnementale : une approche thématique et transversale des sciences naturelles appliquées à l'archéologie préventive
Inrap's internal learning aims to present the benefits of the different disciplines (bioarchaeology and geoarchaeology) used for a better understanding of human activities oven time. Cross-cutting examples are presented by theme, such landscape restitution, exploitation of environments, funeral practices, handcrafts, agro-pastoral and food practices. The different themes are treated in a transversal way, by ranking the contributions and limits of each discipline: geomorphology, pedology, micromorphology, palynology, malacology, carpology, xylo- and anthracology, study of phytoliths, entomology, palaeoparasitology, archaeozoology and ichthyology. The stage is also a time for exchanges between the speakers and trainees (excavation managers, technicians, scientific and technical assistant directors), but also with the "decision-makers" and people in charge of the prescriptions, so that the most appropriate studies can be envisaged, upstream, according to the contexts and scientific issues.
La formation interne de l'Inrap « Archéologie environnementale » vise à présenter les apports des différentes disciplines bioarchéologiques et géoarchéologiques mises en œuvre pour une meilleure compréhension des activités humaines au cours du temps. Des exemples croisés sont présentés par thématique, comme la restitution du paysage, l'exploitation des milieux, les pratiques funéraires, artisanales, agro-pastorales et alimentaires. Les différents thèmes y sont traités de façon transversale, en hiérarchisant les apports et limites de chacune des disciplines : géomorphologie, pédologie, micromorphologie, palynologie, malacologie, carpologie, xylo- et anthracologie, étude des phytolithes, entomologie, paléoparasitologie, archéozoologie et ichtyologie. Le stage est également un moment d'échanges entre les intervenants et les stagiaires (responsables et techniciens d'opération, directeurs adjoints scientifiques et techniques), mais aussi avec les « décideurs » et personnes en charge des prescriptions, afin que puissent être envisagées, en amont, les études les mieux adaptées aux contextes et aux problématiques scientifiques.
Fichier principal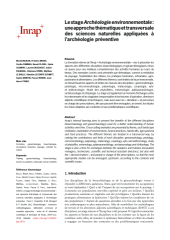 2020_Boulen_Broes_Cammas_et_coll_Stage_archeo_environnementale_SST4_Inrap.pdf (12.22 Mo)
Télécharger le fichier
Origin : Publication funded by an institution