De l'utilisation de la bioarchéologie pour la compréhension des architectures funéraires dans les sépultures médiévales
Funerary architecture comprehension has improved a lot thanks to the development of thanato-archaeology. Taphonomical studies of tombs allow us to understand a small part of the funerary process such as its internal layout. However, some facts remain totally invisible to us without the help of other sciences. Fifteen years of work carried out in the Champagne-Ardenne region showed that, on a recurrent basis, skeletons found in medieval tombs, mainly from the Upper Middle Ages but not exclusively, don't rest directly on the bottom of the pit but on about 10 centimeters of sediment. These skeletons generally show signs of decay in some hard container, sometimes combined with a flexible one. However, the presence of these containers alone cannot explain the elevation of the body and raise the question of the deposition level of it in the burial device. Indeed, is the hard container laying on the bottom of the grave? Is the body raised by a litter made of plants or cloth? On the contrary, is the hard container raised, the body lying directly on the bottom of the container? Or is it a mix of both practices? To try to answer to these questions, two different but complementary methods were used, with two sampling methods, in order to interpret these observations as well as possible: soil micromorphology to detect a possible deposition level of a hard container and phytolith analysis to identify some possible presence of mattresses made of plants.
La compréhension de l'architecture funéraire a fait d'immenses progrès grâce au développement de la thanato-archéologie. L'étude de la taphonomie de la tombe permet d'appréhender une petite partie du processus funéraire tel que son aménagement interne. Cependant, un certain nombre de faits nous sont totalement invisibles sans un recours à d'autres sciences. Ainsi, quinze années de travaux menés en Champagne-Ardenne ont permis de révéler que, de façon récurrente, les squelettes retrouvés dans les tombes médiévales (principalement du haut Moyen-Âge, mais également du bas Moyen-Âge) ne reposent pas sur le fond de la fosse mais sur une dizaine de centimètres de sédiment. Ces squelettes présentent généralement des indices de décomposition dans un contenant rigide parfois associé à une enveloppe souple. Cependant, la présence de ces contenants ne peut à elle seule expliquer cette surélévation du corps et se pose la question du niveau de dépôt de ce dernier dans le dispositif funéraire. En effet, est-ce le contenant rigide qui repose sur le fond de fosse, le corps étant surélevé par la présence d'un aménagement de type litière (végétale, en tissu…) ? Est-ce, au contraire, le contenant rigide qui est surélevé, le corps reposant directement sur le fond du contenant ? Ou s'agit-il d'un mélange de ces deux pratiques ? Dans ce contexte, deux types d'analyses complémentaires ont été utilisées, avec deux modes de prélèvement différents, afin d'interpréter au mieux ces observations : la micromorphologie (pour détecter l'éventuel niveau de repos du contenant rigide) et la recherche de phytolithes (pour déterminer si cette surélévation du corps peut résulter de la présence d'un matelas en matière végétale).
Fichier principal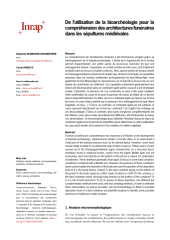 2020_Desbrosse-Degobertiere_Paresys_Archi_funeraire_SST4_Inrap.pdf (6.71 Mo)
Télécharger le fichier
Origin : Publication funded by an institution