Les restes organiques minéralisés : un nouveau champ d'investigation en contexte funéraire. Exemple de la nécropole mérovingienne de Merxheim « Obere Reben » (Haut-Rhin)
Rarely intelligible, mineralized organic residues represent an underestimated information potential: their analysis reveals a universe of rare diversity. Directly linked to the study of the archaeological metal artifact that serves as a support and allowed their preservation, they constitute an almost inexhaustible field of investigation. The intrinsic complexity of the materials, the variability of possible degradation, the taking into account of burial contexts, however, imply rethinking the operational chain of archeology, from the prescription of the archaeological excavation to the final places of conservation of movable property. Interdisciplinarity and the necessary dynamic of interaction between field operators, conservators-restorers, state services and organic materials specialists guarantee the success of the process. The results obtained by this multidisciplinary approach will be illustrated by the example of the Merovingian necropolis of Merxheim (Haut-Rhin).
Rarement intelligibles, les restes organiques minéralisés représentent un potentiel informatif sous-estimé. Directement liés à l'étude de l'objet archéologique en métal qui leur sert de support et a permis leur conservation, ils constituent un champ d'investigation quasi inépuisable et d'une grande diversité. La complexité intrinsèque des matériaux, la variabilité des dégradations possibles, la prise en compte des contextes d'enfouissement impliquent, cependant, de repenser la chaîne opératoire de l'archéologie, depuis la prescription de fouille jusqu'aux lieux de conservation définitifs des biens mobiliers. L'interdisciplinarité et la nécessaire dynamique d'interaction entre les opérateurs de terrain, les conservateurs-restaurateurs, les services de l'État et les spécialistes des matériaux organiques garantissent la réussite de la démarche. Les résultats obtenus par cette approche multidisciplinaire seront illustrés par l'exemple de la nécropole mérovingienne de Merxheim (Haut-Rhin).
Fichier principal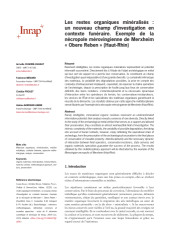 2020_Charrie-Duhaut_et_coll_Restes_orga_necropole_Merxheim_SST4_Inrap.pdf (2.69 Mo)
Télécharger le fichier
Origin : Publication funded by an institution