Restituer les corridors fluviaux d'après les relevés stratigraphiques des diagnostics archéologiques : exemple de la vallée de la Seine dans le Nogentais
Since 1995, fields of the Nogentais area, and more specifically those from the municipalities of Pont-sur-Seine, Villeneuve-au-Châtelot and Périgny-la-Rose (Aube department), have been extensively archaeologically excavated prior to the exploitation of the limestone gravels of the Seine river. These operations totaled a diagnosed surface area of just over 331 hectares and more than 4,000 trenches documented in various ways with regard to the sedimentary deposits brought to light. Two main trends can be observed for the limestone gravels, either present directly below the ploughing horizon or under a thick layer of fine material. These trends illustrate the contrasting morphology of the gravel roof within the valley and the presence of palaeochannels. This article proposes a review of the sedimentary data acquired between 1995 and 2015 in order to map the river corridors within this space. It will eventually make it possible to discuss their impact on former land occupancy (preferential occupation of gravel domes such as bank development) and conservation of the remains (erosion and deposition processes).
Depuis 1995, les champs du Nogentais sur les communes de Pont-sur-Seine, la Villeneuve-au-Châtelot et Périgny-la-Rose (département de l'Aube) ont fait l'objet de nombreux diagnostics et fouilles préalables à l'exploitation des graves calcaires de la Seine. Ces opérations cumulent une surface diagnostiquée d'un peu plus de 331 hectares et plus de 4 000 tranchées documentées de façon diverse quant aux dépôts sédimentaires mis en évidence. Deux grandes tendances sont observables pour les graves calcaires, présentes directement sous l'horizon de labours ou sous une épaisse couche de matériel fin. Celles-ci illustrent la morphologie contrastée du toit des graves au sein de la vallée et la présence de paléochenaux. Cet article propose un bilan des données sédimentaires acquises entre 1995 et 2015 en vue de restituer une cartographie des corridors fluviaux au sein de cet espace. Elle permettra, à terme, de discuter de leur impact sur les modalités d'occupation du sol (l'occupation préférentielle des dômes graveleux comme l'aménagement des berges) et de conservation des vestiges (processus d'érosion et de dépôt).
Fichier principal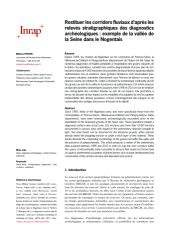 2021_Frouin_et_coll_Restituer_corridors_fluviaux_Nogentais_SST2_Inrap.pdf (7.13 Mo)
Télécharger le fichier
Origin : Publication funded by an institution