Contribution de la paléogénétique à l'archéologie
Paleogenetics, i.e., the analysis of DNA preserved in ancient biological remains, mainly bones and teeth, has opened up new perspectives to archaeology and thus became a major ally. Providing information that is not accessible through other approaches it contributes to a better understanding of archaeological sites and past societies, concerning for instance migrations and admixture, animal and plant domestication and the effects of human action on populations of wild animal and plants. Here, I present a short introduction into genetics and the specificities of paleogenetics, as well as a protocol for sampling of bones geared towards a paleogenetic analysis. Then, I give an overview over the achievements of paleogenetics that enrich archaeological knowledge, in particular if the dialog between archaeologists and geneticists is rich and intense.
La paléogénétique, c'est-à-dire l'analyse génétique de l'ADN préservé dans les vestiges biologiques du passé, principalement os et dents, a ouvert de nouvelles perspectives en archéologie. Cette alliée de poids apporte des informations qui ne sont pas accessibles par d'autres approches et contribue à une meilleure compréhension des sites archéologiques et des sociétés du passé, concernant entre autres migrations et métissages, domestication des animaux et des plantes, effets de l'action humaine sur les populations animales et végétales sauvages. Cet article présente une courte introduction à la génétique et aux spécificités de la paléogénétique, un protocole pour le prélèvement et le stockage des ossements destinés à être analysés et un aperçu des avancées de la discipline qui enrichissent les connaissances de l'archéologie, en particulier lorsqu'un dialogue intense et fertile est établi entre archéologues et généticiens.
Fichier principal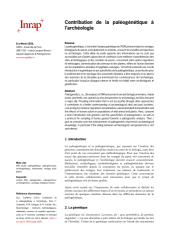 2021_Geigl_Paleogenetique_SST4_Inrap.pdf (1.16 Mo)
Télécharger le fichier
Origin : Publication funded by an institution