The Evolution of the Marque Valley in the Bouvines (Nord, 59) Area since the End of the Weichselian Pleniglacial
L'évolution de la vallée de la Marque dans le secteur de Bouvines (Nord, 59) depuis la fin du Pléniglacaire Weicshelien
As part of a regional research program (UMR 8164 HALMA-IPEL, Université Lille 3) aiming at developing our knowledge of the anthroposystems of the Deûle basin, geomorphological investigations have been carried out along a stretch of the tributary valley of the Marque, in the Bouvines area. About twenty screw-auger probing excavations have enabled the stratigraphic sequence to be established for the quaternary deposits filling the bottom of the valley and to reconstruct locally their paleogeographic evolution, as their chronology could be established with more accuracy through four radiocarbon datings. The interpretation considers the deposit through the action of wind and river of an alluvial layer under the periglacial conditions attributed to the Weichselian Pleniglacial. Datings suggest that conditions in the Late-glacial and Holocene were favourable to an organic-rich silt sedimentation which drowns the bottom of the valley in the context of a river running particularly slowly.
Les plaines alluviales ont souvent constitué des espaces très attractifs pour les sociétés humaines, qu'il s'agisse de l'implantation des habitats ou du développement des activités économiques en relation avec l'eau. C'est pourquoi leur étude focalise, plus particulièrement depuis les années quatre-vingt en France, l'attention conjointe des archéologues et des spécialistes des archéosciences. L'étude des systèmes fluviaux a déjà montré, à différentes échelles spatiales et temporelles, leur grande sensibilité aux variations climatiques et à l'influence des hommes sur leur dynamique. Ces forçages ont pu conduire à une transformation sensible voire radicale des dynamiques hydrosédimentaires, se traduisant en autres effets, par la modification de la distribution des écoulements, avec pour incidences principales une évolution des paysages et des conditions de vie dans ces fonds de vallée. Ces observations ont fait l'objet de grandes synthèses à l'échelle du Nord-Ouest européen, qu'il s'agisse du domaine océanique ou continental 1. Dans le Nord de la France, les travaux portant sur l'évolu-tion des systèmes fluviaux et des fonds de vallée relè-vent principalement des analyses synthétiques de J. Sommé 2 et plus récemment d'études plus ponc-tuelles liées à l'archéologie préventive 3. Un programme scientifique, engagé sous la direction de G. Leman-Delerive et porté par l'UMR 8164 HALMA-IPEL (Université Lille 3), vise depuis plu-sieurs années à une meilleure connaissance des anthroposystèmes du bassin versant de la Deûle. Une première étude a porté sur le cours historique de cette rivière dans la région d'Houplin-Ancoisne 4 , couvrant une fenêtre chronologique depuis le Tardiglaciaire à l'Actuel. C'est dans ce cadre que de nouvelles investigations ont été menées sur la Marque, affluent principal de la Deûle, dont les principaux résultats font l'ob-jet de cette présentation.
In het raam van een regionaal onderzoekprogramma (UMR 8164 HALMA-IPEL, Universiteit Lille 3) betreffende de kennis van de antroposystemen in het dal van het Deulebekken, werd in Bouvines een geomorfologisch onderzoek uitgevoerd in een sector van de vallei van de Marque, een zijrivier van de Deule. Aan de hand van een twintigtal boringen kon men de stratigrafie van de quartaire afzettingen op het lagere deel van de vallei bepalen en lokaal zelfs de evolutie van de paleogeografie, waarvan de chronologie werd bepaald door vier C14 dateringen. De interpretatie houdt rekening met de afzetting van een laag onder invloed van stroming en wind in periglacialeomstandigheden, typisch voor de Weichsel IJstijd. Uit de dateringen blijkt dat de late IJstijd en het Holoceen gunstig zijn voor een sedimentatie die de valleibodem overspoelde in een omgeving met zeer weinig afvloeiingen.
Fichier principal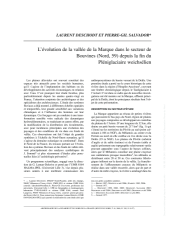 Deschodt et Salvador 2009_version cairn.pdf (2.82 Mo)
Télécharger le fichier
Origin : Publisher files allowed on an open archive