Le diagnostic comme outil de recherche : introduction
Second Inrap scientific and technical seminar, organised in Caen on 28 and 29 September 2017, provided the framework for presentations and debates on archaeological diagnostic, seen as both a scientific act and a research tool. Although the scientific value of the data resulting from a diagnostic is now recognised, the potential of this soil sampling technique for fundamental and applied research seems to be ignored or evaded. In order for the report resulting from an archaeological diagnostic to be seen not only as a technical and factual document but also as a genuine scientific resource, it is necessary to define, when setting up this type of operation, research issues and rational archaeological practices.
Le deuxième séminaire scientifique et technique de l'Inrap, organisé à Caen les 28 et 29 septembre 2017, a été le cadre de présentations et de débats sur le diagnostic archéologique envisagé à la fois comme un acte scientifique et un outil de recherche. Si l'on reconnaît aujourd'hui la valeur scientifique de la donnée issue d'un diagnostic, le potentiel de cette technique d'échantillonnage des sols pour la recherche fondamentale et appliquée, semble ignoré ou éludé. Pour que le rapport issu d'une opération de diagnostic archéologique ne soit pas seulement vu comme un document technique et factuel mais aussi comme une véritable ressource scientifique, il convient de définir, au montage de ce type d'opération, des problématiques de recherche et des pratiques archéologiques rationnelles.
Fichier principal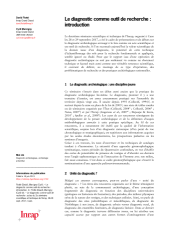 Flotte_Marcigny_SST2-Inrap_2017_intro.pdf (1.35 Mo)
Télécharger le fichier
Origin : Publication funded by an institution