Le diagnostic archéologique : un outil de recherche et de prospective en Eure-et-Loir
Since 2005, Eure-et-Loir Preventive Archaeology Service has taken charge of nearly 40% of the archeological evaluations prescribed in the department. From the preparation of operations to the dissemination of results, the team of archaeologists places this kind of operation at the heart of a global scientific approach. The Caen seminar was therefore an opportunity to share these 13 years of experience and practice of evaluations in territorial authorities. After a brief presentation of the framework of this practice, the emphasis was placed on three main lines of work resulting from the research conducted during the diagnoses: knowledge of chrono-stratigraphic contexts on the scale of the department, modeling of the occupation of territories, and the use of isolated data in multiscalar reflections.
Depuis 2005, le Service d'archéologie préventive d'Eure-et-Loir a pris en charge près de 40 % des diagnostics prescrits sur le département. De la préparation des opérations à la diffusion des résultats, l'équipe d'archéologues place le diagnostic au cœur d'une démarche scientifique globale. Le séminaire de Caen était donc l'occasion de partager ces 13 années d'expérience et de pratique du diagnostic en collectivité territoriale. Après avoir brièvement exposé le cadre de cette pratique, l'accent est mis sur trois principaux axes de travail issus de la recherche conduite lors des diagnostics : la connaissance des contextes chrono-stratigraphiques à l'échelle du département, la modélisation de l'occupation des territoires, l'utilisation des données isolées dans des réflexions multiscalaires.
Fichier principal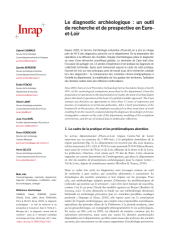 2017_SST2_Inrap_Chamaux_et_coll_Diag_archeo_Eure-et-Loir.pdf (7.37 Mo)
Télécharger le fichier
Origin : Publication funded by an institution