Le stratotype culturel territorial : essai de formalisation d'un outil d'archivage et de modélisation des données archéologiques mis en œuvre dès le diagnostic
Through the presentation of a diagnostic operation carried out in the department of La Manche (50), on the bypass road of Marcey-les-Grèves, the scientific interest of the constitution of a « territorial cultural stratotype » in the framework of this type of archaeological operation is evaluated. This tool, which is similar to a chronological table with multiple indicators, aims to order chronologically and morphologically all the remains uncovered during a diagnostic operation. Its aim is to highlight the possible existence of territorial signatures. For example, two synchronous but different territorial cultural stratotypes would sign the existence of two territories with different taphonomic or cultural meanings. The method is based on an immanent analysis of the remains carried out essentially with the help of the chrono-stratigraphic technique, consubstantial to the archaeologist. This analysis, permanent in its principles, is carried out at different scales: from the structure, through the intrasite, to its generalization at the level of a territory (intersite).
À travers la présentation d'une opération de diagnostic menée dans le département de La Manche (50), sur le contournement routier de Marcey-les-Grèves, est évalué l'intérêt scientifique de la constitution d'un « stratotype culturel territorial » dans le cadre de ce type d'opération archéologique. Cet outil, qui s'apparente à un tableau chronologique à indicateurs multiples, vise à ordonner chronologiquement et morphologiquement l'ensemble des vestiges mis au jour lors d'une opération de diagnostic. Son but est de mettre en évidence l'éventuelle existence de signatures territoriales. Pour exemple, deux stratotypes culturels territoriaux synchrones mais différents signeraient l'existence de deux territoires à significations taphonomiques ou culturelles différentes. La méthode repose sur une analyse immanente des vestiges réalisée essentiellement à l'aide de la technique chrono-stratigraphique, consubstantielle à l'archéologue. Cette analyse, permanente en ses principes, est menée à différentes échelles : depuis la structure, en passant par l'intrasite, jusqu'à sa généralisation au niveau d'un territoire (intersites).
Fichier principal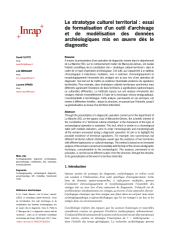 2020_Flotte_et_coll_Stratotype_culturel_SST2_Inrap.pdf (12.22 Mo)
Télécharger le fichier
Origin : Publication funded by an institution