Archéogéographie et diagnostic archéologique : l'expérience de l'A83 dans le Sud-Vendée, « un retour vers le futur »
This article looks back at methods used to implement diagnostics carried out in the 1990s prior to the construction of the A83 motorway and the integration of these data into an archaeogeographic survey conducted ten years later as part of a PhD thesis. The aim is to explain what the preventive archaeological data has brought to the archaeogeographic analysis and, inversely, what they has brought, retrospectively and since 2009 (date of the defence), to the assessments and preventive excavations carried out in the south Vendean plain. This linkage poses several problems, all of which have an impact on the use and understanding of archaeological or archaeogeographical data. These discrepancies and difficulties make it possible to see the limits of this intellectual collaboration when the archaeogeographic analysis is not carried out upstream of the excavations and, by extension, to plead for new procedures. Indeed, beyond this particular case, the aim of this article is to point out various problems which limit the integration of archaeogeographic study to diagnostics and the valorisation of their results, but also to propose solutions to remedy them.
L'article revient sur les modalités de mise en œuvre des diagnostics réalisés dans les années 1990 en amont de la construction de l'A83 et sur l'intégration de ces données au sein d'une enquête archéogéographique conduite dix ans plus tard dans le cadre d'une thèse. L'objectif est d'expliquer ce que les données archéologiques préventives ont apporté à l'analyse archéogéographique et, inversement, ce que cette dernière apporte, rétrospectivement et depuis 2009 (date de la soutenance), aux évaluations et fouilles préventives réalisées dans la plaine sud-vendéenne. Cette articulation pose plusieurs problèmes qui, tous, ont un impact sur l'exploitation et la compréhension des données archéologiques ou archéogéographiques. Ces décalages et difficultés permettent de voir les limites de cette collaboration intellectuelle quand l'analyse archéogéographique n'est pas menée en amont des fouilles et, par extension, de plaider pour de nouvelles procédures. En effet, au-delà de ce cas particulier, le but de cet article est de pointer les différents problèmes qui limitent l'intégration d'une étude archéogéographique aux diagnostics et la valorisation des leurs résultats, mais aussi de proposer des solutions pour y remédier.
Fichier principal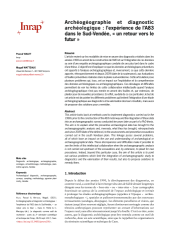 2021_Vialet_Watteaux_archeogeographie_sud_Vendee_SST2_Inrap.pdf (7.24 Mo)
Télécharger le fichier
Origin : Publication funded by an institution