Des mammouths sous l'autoroute. L'exploitation des données environnementales et leurs apports pour diagnostiquer et étudier les sites paléolithiques : l'exemple des fouilles du Contournement Ouest de Strasbourg (Bas-Rhin)
Alsace has been known for its Paleolithic archaeological potential since the 19th century. Only recently has research in ancient Prehistory been gaining momentum. On the occasion of the diagnostics carried out for the motorway project of the Contournement Ouest de Strasbourg, deep surveys were carried out. Five Middle Paleolithic deposits have been identified, three of which have been excavated. The work carried out on the loessic sequences observed at these sites allows for the reinvestigation of the stratigraphic, chronological and environmental reference frame for local prehistory. This work is based on a multidisciplinary, high-resolution approach (geomorphology, archaeozoology, malacology, etc.) to restore the palaeoenvironmental context of occupations and to better understand human-environment interactions.
Bien que l'Alsace soit connue pour son potentiel archéologique paléolithique depuis le XIXe siècle, ce n'est que récemment que la recherche en Préhistoire ancienne connaît un nouvel élan. À l'occasion des diagnostics archéologiques menés préalablement au projet autoroutier du Contournement Ouest de Strasbourg, des sondages profonds ont été réalisés. Sept indices de site du Paléolithique moyen ont été identifiés, dont trois ont fait l'objet de fouilles. Les travaux menés sur les séquences lœssiques observées sur ces sites ont permis de reprendre le cadre de référence stratigraphique, chronologique et environnemental pour la Préhistoire locale. Ces travaux sont fondés sur une approche pluridisciplinaire à haute résolution (géomorphologie, archéozoologie, malacologie, etc.) afin de restituer le cadre paléoenvironnemental des occupations et de mieux comprendre les interactions hommes/milieu.
Fichier principal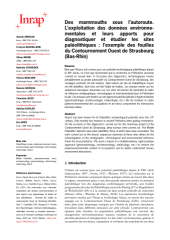 2021_Griselin_et_coll_Exploitation_donnees_environnementales_sites_paleo_SST4_Inrap.pdf (13.89 Mo)
Télécharger le fichier
Origin : Publication funded by an institution