L'archéozoologie dans la chaîne opératoire de l'archéologie préventive en France : du diagnostic au rendu de rapport de fouille
Being part, to varying degrees, of the entire operational chain of preventive archaeology, the life sciences and, more specifically, archaeozoology, fully contribute to understanding of sites and past human activities. Nevertheless, despite the constantly renewed demonstration of contributions of this discipline, the daily practice of archaeozoology in preventive archaeology is today frequently subject to a restriction of financial means as well as of the fields of study, leading to a substantial modification of the content of works. These recent changes affect many archaeozoologists working in the field of preventive archaeology, whether they are attached to public or private operators. In view of the recurrence of these difficulties, denounced by most specialists, it is necessary to examine their origins in order to try to remedy them. A detailed examination of the integration of archaeozoology into the practice of preventive archaeology, from the prescription to the final evaluation of the work, in Île-de-France region, will make it possible to draw up observations, but also to initiate a reflection aimed at proposing path for improvement involving all actors in preventive archaeology (regional archaeological services, operators, territorial commissions for archaeological research). Finally, in view of the recent development of new methodological and collaborative tools, we will examine the emerging dichotomy between preventive archaeozoology, as it is currently practised in France by public or private operators, and the research carried out by other institutions (CNRS, MNHN, universities). This reflection seems essential in order to preserve the link between case studies and research, but also to maintain the cohesion of the community, as archaeozoologists today work mainly in the field of preventive archaeozoology.
S'inscrivant, à des degrés divers, dans l'ensemble de la chaîne opératoire de l'archéologie préventive, les sciences du vivant et, plus spécifiquement l'archéozoologie, contribuent pleinement à la compréhension des sites et des activités humaines passées. Néanmoins, malgré la démonstration sans cesse renouvelée des apports de cette discipline, la pratique quotidienne de l'archéozoologie en contexte préventif est aujourd'hui fréquemment sujette à une restriction des moyens financiers ainsi que des champs d'étude, menant à une modification substantielle du contenu des travaux. Ces changements récents affectent nombre d'archéozoologues œuvrant dans le cadre du préventif, qu'ils soient rattachés à des opérateurs publics ou privés. Au regard de la récurrence de ces difficultés, dénoncées par la plupart des spécialistes, il convient de s'interroger sur leurs origines pour tenter d'y remédier. Un examen détaillé de l'insertion de l'archéozoologie dans la pratique de l'archéologie préventive, depuis la prescription jusqu'à l'évaluation finale des travaux, en Île-de-France, permettra de dresser des constats, mais aussi d'initier une réflexion visant à proposer des pistes d'amélioration impliquant l'ensemble des acteurs de l'archéologie préventive (services régionaux de l'archéologie, opérateurs, commissions territoriales de la recherche archéologique). Enfin, face au récent développement de nouveaux outils méthodologiques et collaboratifs, on s'interrogera sur la dichotomie naissante entre l'archéozoologie préventive, telle qu'elle est aujourd'hui pratiquée en France par les opérateurs publics ou privés, et les recherches menées par les autres institutions (CNRS, MNHN, universités). Cette réflexion semble indispensable afin de préserver le lien entre les études de cas et la recherche mais aussi pour maintenir la cohésion de la communauté, les archéozoologues exerçant aujourd'hui majoritairement dans le cadre du préventif.
Fichier principal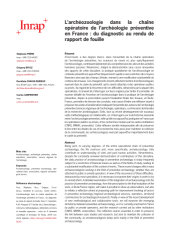 2021_Frere_et_coll_Archeozoo_chaine_operatoire_archeo_preventive_SST4_Inrap.pdf (1015.6 Ko)
Télécharger le fichier
Origin : Publication funded by an institution