Un diagnostic sur un logis renaissance dans un bourg rural : la Maison Laurens à Foussais (Foussais-Payré, Vendée)
The purchase by the municipality of this vast urban residence dating from 1552 and the associated redevelopment and restoration projects led the SRA des Pays de la Loire to prescribe a diagnosis in the fall of 2018. Several meetings prior to the work site enabled Inrap and the SRA to jointly develop an intervention program and define its objectives. Generally speaking, it was decided to research the original volume of the building, particularly that of its parts that have disappeared (gallery) or been radically transformed (east wing), and to study the framework, dated 1554 by dendrochronology. Within this framework and depending on the areas that were actually accessible, the archaeological interventions (pitting) were concentrated on the old stairwell, the four levels of the east wing, the gallery and the attic. It was thus possible, in the area studied, to restore all of the original volumes and circulations, to confirm the existence of the gallery floor and the entresol of the east wing, to reveal the presence of a second tower that was a counterpart to the staircase tower and framed the gallery, to identify the framework as an early model of a lierne framework, and to uncover numerous remains of the Renaissance sculpted decoration, showing a much better state of conservation of the ancient interior features than was initially estimated. The study of these decorations has allowed us to better situate the building in the current of building sites and works carried out in the region (the Bas-Poitou and notably the neighboring towns of Fontenay-le-Comte and Coulonges-sur-l'Autize) during the years 1540 – 1560.
Le rachat par la municipalité de cette vaste demeure urbaine datée de 1552 (ph. 1) et les projets de réaménagement et de restauration associés ont amené le SRA des Pays de la Loire à y prescrire un diagnostic à l'automne 2018. Plusieurs réunions préalables au chantier ont permis à l'Inrap et au SRA d'élaborer en commun un programme d'intervention et de définir ses objectifs. D'une façon générale, il a été décidé de rechercher la volumétrie initiale du bâtiment, notamment celle de ses parties disparues (galerie, ph. 2) ou radicalement transformées (aile est), et d'étudier la charpente, datée de 1554 par dendrochronologie. Dans ce cadre et en fonction des zones effectivement accessibles, les interventions archéologiques (piquages) se sont concentrées sur l'ancienne cage d'escalier (ph. 5 et 7), les quatre niveaux de l'aile Est, l'emprise de la galerie et les combles. Il a ainsi été possible, dans la zone étudiée, de restituer l'ensemble des volumes initiaux et des circulations d'origine, de confirmer l'existence de l'étage de la galerie (ph.6) et de l'entresol de l'aile est, de révéler la présence d'une seconde tour faisant pendant à la tour d'escalier pour encadrer la galerie, d'identifier la charpente comme un modèle précoce de charpente à liernes et de mettre au jour de nombreux restes du décor sculpté renaissance (ph. 8), montrant ainsi un état de conservation des dispositifs intérieurs anciens bien meilleur qu'initialement estimé. L'étude de ces décors a permis de mieux replacer le bâtiment dans le courant des chantiers et travaux réalisés dans la région (le Bas-Poitou et notamment les villes voisines de Fontenay-le-Comte et Coulonges-sur-l'Autize) durant les années 1540 – 1560.
Fichier principal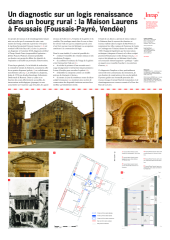 S01_05_POSTER_Pascal_Maison_Laurens.pdf (9.79 Mo)
Télécharger le fichier
Origin : Files produced by the author(s)