Archéologie urbaine et archéologie numérique
In France, the number of preventive archaeology sites has grown considerably since the 1980s. At the same time, the use of digital devices has multiplied in the context of the development of micro-computing, leading to its progressive extension in the scientific practices of researchers. Opening new perspectives for the treatment of excavation documentation, digital devices have led archaeologists to acquire new skills, for which self-learning has often been the rule. Changes have occurred in work practices and in the ways in which skills are transferred. The examination of a few reports of preventive excavations in complex stratified urban environments over the last four decades allows a contribution to the debate. The effects of digital technology on practices in this type of archaeological context are very significant. If the benefits are undeniable, difficulties also appear in the implementation of certain systems when digital technology is generalized without a solid methodological foundation or prior problematic. This process can also introduce risks of weakening work collectives, notably through the distribution of activities and tasks in the field and in the offices. It is all the more inviting for exercises in reflexivity and for the development of epistemological research, which is still rare to date.
En France, les chantiers d'archéologie préventive ont connu une forte croissance à partir des années 1980. En parallèle, les usages de dispositifs numériques se sont multipliés dans le contexte du développement de la micro-informatique conduisant à son extension progressive dans les pratiques scientifiques des chercheurs. Ouvrant de nouvelles perspectives pour le traitement de la documentation de fouille, les dispositifs numériques ont conduit les archéologues à acquérir de nouvelles compétences, pour lesquelles l'auto-apprentissage a souvent été la règle. Des changements sont intervenus dans les pratiques de travail et les modalités du transfert des compétences. L'examen de quelques rapports de fouilles préventives en milieu urbain stratifié complexe sur les quatre dernières décennies permet une contribution au débat. Les effets du numérique sur les pratiques pour ce type de contexte archéologique sont très significatifs. Si les bénéfices sont incontestables, des difficultés apparaissent aussi dans la mise en œuvre de certains dispositifs lorsque le numérique se généralise sans fondement méthodologique solide ni problématique préalable. Ce processus peut aussi introduire des risques de fragilisation des collectifs de travail notamment par la répartition des activités et tâches sur le terrain et dans les bureaux. Il invite d'autant plus à des exercices de réflexivité et à développer des recherches de nature épistémologique, encore rares à ce jour.
Fichier principal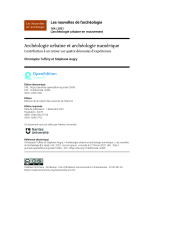 nda-12439.pdf (1.05 Mo)
Télécharger le fichier
Origin : Publisher files allowed on an open archive
Licence : CC BY NC - Attribution - NonCommercial