Le diagnostic et rien d'autre. Retour d'expérience à partir de quelques villes de Normandie
This paper presents feedback on the arduous implementation of urban archaeology based on several Norman examples (Bayeux, Caen, Argentan, Alençon, etc.), where the evaluation phase often ends up as the main (sometimes the only) intervention informing us of past occupations and town development process. Are presented, below, different views on the continually evolving codes of practice that include, according to the contexts and the development projects concerned, a multitude of operation types (non invasive methods, classical urban trial trenchnig, watching briefs, standing building studies, coring, etc.). Beyond the definition of the pros and cons of evaluations in urban contexts, the aim is to promote a constructive approach to be shared by the different stakeholders of urban development (architects, engineers, councillors, developers).
Cet article propose un retour d'expérience sur la difficile mise en oeuvre de « l'archéologie en ville » à travers quelques exemples normands (Bayeux, Caen, Argentan, Alençon, etc.) où le diagnostic apparaît souvent comme le principal acte (et parfois le seul) nous renseignant sur les occupations passées et sur la dynamique de fabrication de la ville. Sont présentés, ci-après, des regards croisés sur des pratiques en évolution permanente et qui mêlent, en fonction des contextes et des projets à l'origine des prescriptions, une multitude de formes d'intervention (méthodes non-invasives, diagnostic urbain « classique », suivi de travaux, diagnostic du bâti, carottages, etc.). Au-delà de la définition des apports et des limites du diagnostic en milieu urbain, l'idée est de promouvoir une approche constructive auprès des différents acteurs de l'aménagement urbain (architectes, ingénieurs, élus, aménageurs).
Fichier principal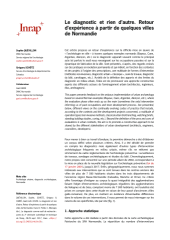 2017_SST2_Inrap_Quevillon_Schutz_Diag_Normandie.pdf (4.24 Mo)
Télécharger le fichier
Origin : Publication funded by an institution