Le rapport d'analyse carpologique : exposé des minimums méthodologiques communs attendus par la communauté archéologique (carpologues, responsables d'opérations, services de l'État)
Archaeobotany, which was initiated in France 50 years ago, has developed considerably thanks in large part to the increase in preventive archaeological operations. The significant increase in the number of archaeobotanists, the resulting increase in the number of studies and the multiplication of institutional frameworks, public or private, in which archaeobotanical studies are carried out, have made it necessary to reflect collectively on the minimum methodological requirements to be included in archaeobotanical study reports. Indeed, the implementation of major regional or chronological summaries requiring the creation of shared databases highlights shortcomings in terms of the minimum information to be included in the reports. These shortcomings don't allow the optimal exploitation of the results from the resumption of old studies or the work of several archaeobotanists. Following the example of what has been proposed in archaeozoology, this work presents a consensus on the minimum information to be included in archaeobotanical reports, validated by the community of archaeobotanists practising on French territory. The information that must imperatively appear in the reports is listed by thematic groups, ranging from a synthetic description of the site studied to methodological indications specific to the discipline. Compliance with this minimum methodological requirement will enable the solid foundations to be laid for collaborative research and will feed scientific research over the long term.
La carpologie, initiée en France il y a 50 ans, s'est considérablement développée en grande partie grâce à l'augmentation des opérations d'archéologie préventive. La hausse sensible du nombre de carpologues, l'accroissement des études qui en résulte et la multiplication des cadres institutionnels, publics ou privés, dans lesquels les études carpologiques sont réalisées, ont rendu nécessaire une réflexion collective sur les minimums méthodologiques devant apparaître dans les rapports d'études carpologiques. En effet, la mise en œuvre de grandes synthèses régionales ou chronologiques nécessitant la réalisation de bases de données partagées met en évidence des manques quant aux informations minimales devant figurer dans les rapports. Ces insuffisances ne permettent pas l'exploitation optimale des résultats émanant de la reprise d'anciennes études ou des travaux de plusieurs carpologues. À l'instar de ce qui a été proposé en archéozoologie, ce travail présente un consensus relatif aux renseignements minimaux devant figurer dans les rapports carpologiques, validé par la communauté des carpologues exerçant sur le territoire français. Les informations qui doivent impérativement apparaître dans les rapports sont listées par groupes thématiques, allant de la description synthétique du site étudié aux indications méthodologiques propres à la discipline. Le respect de ce minimum méthodologique permettra de poser les bases solides d'une recherche collaborative et de nourrir la recherche scientifique sur le long terme.
Fichier principal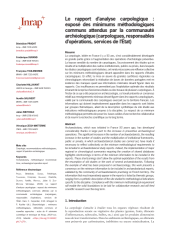 2020_Pradat_Durand_Toulemonde_et_coll_Rapport_carpologique_SST4_Inrap.pdf (1.67 Mo)
Télécharger le fichier
Origin : Publication funded by an institution