La dendrochronologie : potentialités et nouveaux enjeux pour l'archéologie
Dendrochronology, a dating method that studies the variation in the tree-rings width, is usually used in archaeology to obtain an absolute dating. Dialogue and data sharing between different actors of the discipline are necessary in order to make the results reliable. However, archaeological woods analyses is not limited to dating and new approaches are emerging, allowing new fields of research and filling spaces and chronologies gaps. In this context, dendrochronology contributes to a better understanding of silvicultural practices and state of forests, but also to their location in areas with few or no human presence. Tree selection, forest exploitations and their evolution over time, as well as the provenance of woods, are as much information that can be put into perspective between an archaeological site and its environment. More specifically, the aim of this article is to present these new dendrochronological approaches and their issues in the framework of archaeology.
La dendrochronologie : potentialités et nouveaux enjeux pour l'archéologie Résumé La dendrochronologie, méthode de datation qui étudie la variation des largeurs de cernes de croissance des arbres, est habituellement utilisée en archéologie pour obtenir une datation absolue. Le dialogue et le partage de données entre les différents acteurs de la discipline sont nécessaires afin de fiabiliser les résultats. L'analyse des bois archéologiques ne se limite toutefois pas à cette seule datation et de nouvelles approches voient le jour permettant l'émergence de nouveaux champs de recherche et le comblement des espaces et des chronologies encore lacunaires. Dans ce contexte, la dendrochronologie contribue à une meilleure compréhension des pratiques sylvicoles et de l'état des forêts, mais aussi à leur localisation dans des espaces peu ou fortement anthropisés. La sélection des arbres, les exploitations forestières et leur évolution au cours du temps ainsi que la provenance des bois, sont autant d'informations qui peuvent être mises en perspective entre un site archéologique et son environnement. Plus spécifiquement, cet article a pour objectif de présenter ces nouvelles approches dendrochronologiques et leurs enjeux dans le cadre de l'archéologie.
Fichier principal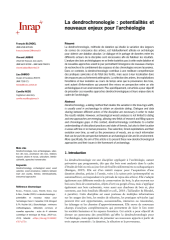 2020_Blondel_et-coll_Dendrochronologie_SST4_Inrap.pdf (19.93 Mo)
Télécharger le fichier
Origin : Publication funded by an institution