La conservation et la gestion des biomatériaux au sein du CCE d'Alsace
Centre for Conservation and Study (in French CCE) of Alsace, supported by Archéologie Alsace, departments of Bas-Rhin and Haut-Rhin and DRAC Grand Est, was inaugurated in 2016 in Sélestat with the aim of improving the conservation and management of archaeological material throughout Alsace. Biomaterials are particularly well represented at the CCE, notably because the main Alsatian museums, due to a lack of space and suitable premises, are sometimes unable to accommodate them when large lots are involved (fauna in particular). They are therefore kept at the CCE in specific depots in order to guarantee optimal conservation and management, according to their nature. Regular exchanges with specialists aim to gradually enrich the inventories with study data. Thanks to the CCE's study rooms, which also include reference collections, these remains are regularly studied and easily accessible. Protocols and procedures to be followed in the event of sampling for destructive analyses have recently been drawn up in order to better manage the numerous requests.
Le Centre de Conservation et d'Étude (CCE) d'Alsace, porté par Archéologie Alsace, les départements du Bas-Rhin et du Haut-Rhin et la DRAC Grand Est, a été inauguré, en 2016, à Sélestat en vue d'améliorer la conservation et la gestion du mobilier archéologique à l'échelle de l'Alsace. Les biomatériaux sont particulièrement bien représentés au CCE, notamment parce que les principaux musées alsaciens, par manque de place et de locaux adaptés, ne peuvent parfois pas les accueillir lorsqu'il s'agit de lots importants (faune notamment). Ils sont dès lors conservés au CCE dans des dépôts spécifiques afin de garantir une conservation et une gestion optimale, en fonction de leur nature. Des échanges réguliers avec les spécialistes ont pour objectif d'enrichir progressivement les inventaires avec les données d'étude. Grâce aux salles d'étude du CCE, comprenant également des collections de référence, ces restes sont régulièrement étudiés et facilement accessibles. Des protocoles et procédures à respecter en cas de prélèvement pour analyses destructrices ont été récemment élaborés afin de cadrer au mieux les nombreuses sollicitations.
Fichier principal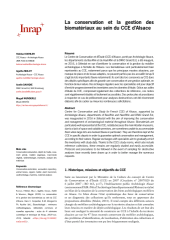 2020_Koehler_et_coll_CCE_biomateriaux_SST4_Inrap.pdf (3.57 Mo)
Télécharger le fichier
Origin : Publication funded by an institution