Discrimination entre deux cormorans du golfe Arabo-Persique : Phalacrocorax carbo et Ph. nigrogularis
The excavation of three insular sites of the Arabian Gulf has provided numerous Great Cormorants (Phalacrocorax carbo) and Socotra cormorants (Phalacrocorax nigrogularis) remains. Their metrical examination allow to offer methods of differentiation between species, sexes and age classes for youngest individuals. These referential bring information on the appropriation models of these birds.
La fouille de trois sites insulaires du golfe Arabo-Persique a livre de nombreux restes de grands cormorans (Phalacrocorax carbo) et de cormorans de Socotra (Phalacrocorax nigrogularis). Leur examen métrique permet de proposer des méthodes de différenciation entre les deux espèces, les sexes ainsi que des classes d'âge pour les plus jeunes individus. Ces référentiels apportent des informations sur les modes d'appropriation de ces oiseaux.
Fichier principal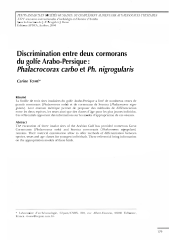 2004_TOME_Discrimination_cormorans_carbo_nigrogularis.pdf (2.7 Mo)
Télécharger le fichier
Origin : Explicit agreement for this submission