Un séminaire d'archéologie sur le bâti : pour quoi faire ?
Why in 2021 propose a scientific and technical seminar on the practice of building archaeology? First of all, because the insertion of these studies in the classic system of preventive archaeology is still being debated from time to time, whereas the number of prescriptions is finally on the rise. The implementation of this method of analysis encounters other obstacles that illustrate the path to be followed collectively: the difficult evaluation of means, problems of recognition of competence, questions linked to the safety of these operations, etc. Beyond these questions, this seminar gives us the opportunity to reflect on the specific character of our discipline: how do we, archaeologists, envisage approaching architecture as a whole, from the material to the program, from what it is to what it implies, and what place do we have in this construction of a common heritage?
Pourquoi en 2021 proposer un séminaire scientifique et technique sur la pratique de l'archéologie du bâti ? En premier lieu parce que l'insertion de ces études dans le dispositif classique de l'archéologie préventive fait ponctuellement encore débat, alors que le nombre de prescriptions est finalement à la hausse. La mise en œuvre de cette méthode d'analyse rencontre d'autres freins qui illustrent le chemin à parcourir collectivement : la difficile évaluation des moyens, les problèmes de reconnaissance de compétence, les questions liées à la sécurité de ces opérations, etc. Au-delà de ces questions, ce séminaire nous donne la possibilité de réfléchir sur le caractère spécifique de notre discipline : comment nous, archéologues, envisageons-nous d'aborder l'architecture dans son ensemble, du matériau au programme, de ce qu'elle est à ce qu'elle implique, et qu'elle place avons-nous dans cette construction d'un patrimoine commun ?
Fichier principal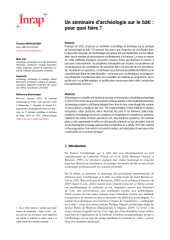 2022_Mataouchek_Intro_seminaire_archeo_sur_bati _SST5_Inrap.pdf (7.06 Mo)
Télécharger le fichier
Origin : Publication funded by an institution